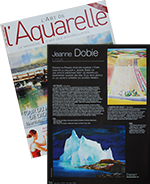 Jeanne Dobie was one of 16 international artists featured with her prize-winning paintings in the beautiful French Magazine L'Art de L'Aquarelle, issue No. 9. CLICK HERE to read the article.
A new Jeanne Dobie Interview is now on the Creative Catalyst Productions website. CLICK HERE to read the 2012 interview.
(PDF file, 1.1MB)
Nationally known watercolorist, juror, educator, and author features her paintings, prints, DVD 7 Lesson Workshop Set, and book "Making Color Sing".
Another interview with Jeanne Dobie's paintings appeared in the Watercolor Magazine Winter 2008 issue. Click here to read about Jeanne's color approaches and working methods. (PDF file, 500kb)


Jeanne Dobie was honored as one of the 20 Great Teachers featured in the Watercolor magazine Fall 2006 Collectors Edition (American Artist publication). The selection represented the outstanding artists who championed the watercolor medium throughout the past two decades to its level of prominence today.
"The ultimate high for me is the act of painting in God's great outdoors," says artist Jeanne Dobie. "Everything that happens afterwards is appreciated but an anticlimax."
A lot has happened, however, for this well-known American artist in the form of numerous medals and awards from national exhibitions such as the American Watercolor Society, the National Watercolor Society, the Transparent Watercolor Society of America, and the Watercolor USA Honor Society, among others. Her paintings are represented in prominent collections, including the Frye Museum, Seattle, WA, and have been featured on the covers and in articles in American Artist and The Artist's Magazines, as well as in many U.S. and European publications. Dobie is a signature member of both the American Watercolor Society and the National Watercolor Society, a frequent juror of major national exhibitions (A.W.S. 2007, N.W.S. 2006, A.W.S. 2004, A.W.S. 2001, N.W.S. 1997, A.W.S. 1995, and state watercolor societies' exhibitions), the instructor in her DVD Workshop series and the author of the best-selling book "Making Color Sing".
View the Artist's Magazine July 2000 issue featured Jeanne Dobie's work on the cover and in an article, as shown here.
*Copyright Notice: All artwork, videos, and book have been previously copyrighted by Jeanne Dobie and cannot be copied or reproduced in any form without the written permission of Jeanne Dobie.